Dr. Mala Khan: Pioneer of Chemical Metrology Research in Bangladesh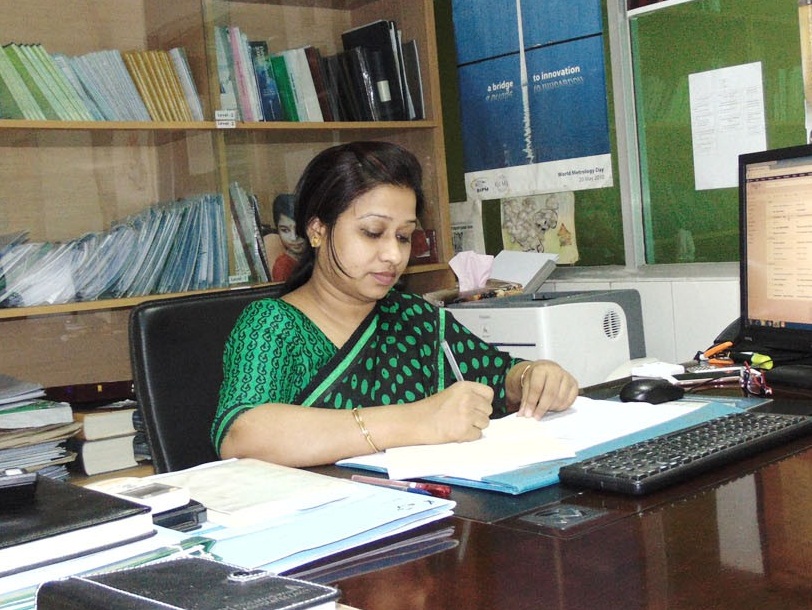 Dr. Mala Khan is the Chief Scientific Officer and Director of Designated Reference Institute for Chemical Measurements (DRiCM). She successfully developed the concept of DRiCM, which led to the establishment of the lone Designated Reference Institute for Chemical Measurement.
Mala is a passionate professional scientist. It's her passion, which developed DRiCM through motherly affection.

Of course, she faced so many ups and downs on the way to establish the organization. Her colleagues tried to tarnish her image in various ways and many conspiracies were hatched against her. Despite being a female scientist, she stood tall against all adversities, holding her head high and never gave up. Such determination and grit eventually succeeded her even though conspiracy against her is yet to stop.
She completed her graduation in Computer Science and Engineering from The University of Asia Pacific and took 'Laboratory Information Management System' as the thesis of her subject. Not only this, together with her academic study, she joined Plasma Plus, a prestigious and government approved private research laboratory to execute this practically. As she was involved in her work intensely, she found a new aspect of Science Chemical Metrology (The Science of Chemical Measurements) particularly to her likings. And this pursuit eventfully led her to establish DRiCM.
DRiCM is a reference laboratory and a full-fledged centre for chemical metrological research under Bangladesh Council of Scientific and Industrial Research (BCSIR), which has pioneered and is currently carrying out research and providing services in the field of chemical measurement, a science defined as 'Chemical Metrology'. It is the first and most prestigious reference institute for chemical measurement in Bangladesh.
"In 1998 during my undergraduate research, I started my journey in Analytical Instrumentation & Laboratory Information System Management (LIMS) in Bangladesh and I was awarded Chancellors' Gold Medal by the honourable President of the Peoples' Republic of Bangladesh for my academic excellence in 2000 from the University of Asia Pacific," Mala Khan said.
In order to carry out higher research in the field she had already been working with, Dr Khan pursued PhD from American World University, a university of United States. Title of her PhD research was "National Strategy for Developing Chemical Metrology Infrastructure of Bangladesh (2009-2021)" which was the basis for the concept of establishment of DRiCM, the foundation of chemical metrology infrastructure of Bangladesh.
DRiCM was established through development projects of the government and it was created as a separate institute under BCSIR by the order of the government.
Prime Minister Sheikh Hasina had inaugurated DRiCM on June 10, 2012, on the premises of the BCSIR.
"I have successfully deployed the system of DRiCM to meet acceptable international standards defined by Bureau International des Poids et Mesures( International Bureau of Weights and Measures) BIPM, and to achieve recognitions from Asia Pacific Metrology Programme(APMP) and BIPM. In 2012, DRiCM earned membership of BIPM and APMP. DRiCM also became the scientific partner of the Netherlands based UN Organization for the Prohibition of Chemical Weapons (OPCW) and Portuguese National Standards and Metrology body IPQ and COMSATS," she added.
Many a question troubled Dr Khan that urged her to undertake pursuit of establishing DRiCM, for instance, why the markets for shrimp, frozen foods and vegetables, medicines, chemical products, tea, leather or plastic products and small machinery were not at the expected levels despite the huge demand for such Bangladeshi products in Europe, North America, Japan, Australia or the Middle East.
The test reports and certificates on product quality were not considered reliable and were not trusted in those countries. Naturally, the question arose as to why the country's local testing laboratories were not properly accredited in accordance with international guidelines.
After in-depth scientific research and discussions with the national community, Dr Mala Khan, scientist and Project Director of DRiCM, proposed forming such a prestigious chemical metrology institute. It was also considered necessary to conform to two compelling conditions --- the agreement on Technical Barriers to Trade (TBT) and the Sanitary and Phytosanitary (SPS) agreement of the World Trade Organization (WTO).
"In this very specialized field "Science of Chemical Measurements", that is, "Chemical Metrology", I have been continuing my journey and keeping myself stick to my vision and through my relentless, scientific and management actions, I have been able to identify scientifically the national challenges in laboratory quality management system (LQMS), laboratory accreditation and science of measurements i.e. metrology, and these were published in 2000, 2003, 2008, 2008, 2009, 2012," she informed.
"I have assessed the national needs and demands as well as formulated the National Strategy (2009-2012) for establishing a scientific infrastructure in Chemical Metrology in Bangladesh to meet the international requirements and norms. By 2007, I got a breakthrough success in attracting the academia- industries-scientific communities including Bangladesh Academy of Sciences BAS, European Commission, UNIDO and other concerned international communities and national policy makers in this area."
"Through a development project approved by the government, I have been successful in designing and establishing Designated Reference Institute for Chemical Measurements DRiCM, built with more than 3000 sq.m, with state-of-the-art technical facilities, modern equipment, specially created HVAC controlled environment, auditorium, training venues, logistics and run by young scientific team."
Dr Mala Khan's efforts bore fruit and DRiCM successfully began its journey. Dr Khan received the prestigious APMP DEN (Development Economy) Award in 2015 for her outstanding contribution, role and achievement in building the infrastructure of chemical metrology in Bangladesh.
International communities, viz. the European Union, agencies of the United Nations, local and international organizations, industrial units, scientists and educationists have praised the DRiCM, as this reference laboratory has participated in different scientific and technical activities from its inception.
This laboratory, as a member of BIPM, was listed among the best institutes in the world related to metrology on 10 October 2012. It is connected to the cooperative network of reference institutes of similar types, totaling 273. On 7 May 2013, DRiCM became a member of the Asia Pacific Metrology Programme (APMP), getting 100 per cent of the votes of the member countries.
DRiCM proved to be an exceptional research and chemical calibration institution. It started serving its clients before the completion of the project periods and earned more than Tk. 2.5crore.
DRiCM has signed memoranda of understanding (MoU) with Unilever Bangladesh Limited, Bureau Varitau, Pran RFL Group, Akij Food and Beverage Limited and Algasol Bangladesh Limited. Pharmaceuticals like Concord, ACI, Beacon are in pipeline.
After conducting thorough national need assessment surveys and studies, gap analysis, strategic analysis and priority identification, a total of 10 strategic packages of services has been identified for dissemination by DRiCM. DRiCM is now a world-standard Reference Chemical Measurement Institute, adding value to scientific, academic, research and socioeconomic and environmental issues of Bangladesh.
The key aim is to make this reference institute sustainable so that it can provide services to public and private, national and international organizations. To leverage this value and for making this Reference Institute more efficient and functional, government created 80 posts in revenue set-up fixing the required qualification and experience for recruitment to those posts.
Source : The Daily Observer 23 September, 2017